This week we steal someone else's jokes, but they're 2,000 years old, so it's okay. Except the ones about Napoleon. There's no excuse for those. They're just terrible.

Episode 50: Spontaneous Turkbustion
[ 31:30 ]
Play Now
Play in Popup
|
Download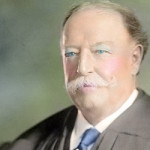 It's our lucky 13th episode and our one-year anniversary!

Episode 13: Chief Justice Taft's Lady Episodes
[ 31:54 ]
Play Now
Play in Popup
|
Download
This Week: — "Don't operate heavy machinery. It's heavy. Let someone else do it." — How to make money on the Internet — The Revolution Might be Pinned — Kickbarter?…