Dear Creature, edited by our own Steven Padnick
I'm sure someone wrote the best new graphic novel to hit bookshops today (it was Jonathan Case that wrote it; he's very good) but we're caring just a bit more about the fact that it was edited by our very own Steven Padnick. Here's what the cover looks like, and what Steven had to say about it. Buy it before you do anything else, or else you won't be able to read it properly. So there.
Dear Creature On Sale TODAY!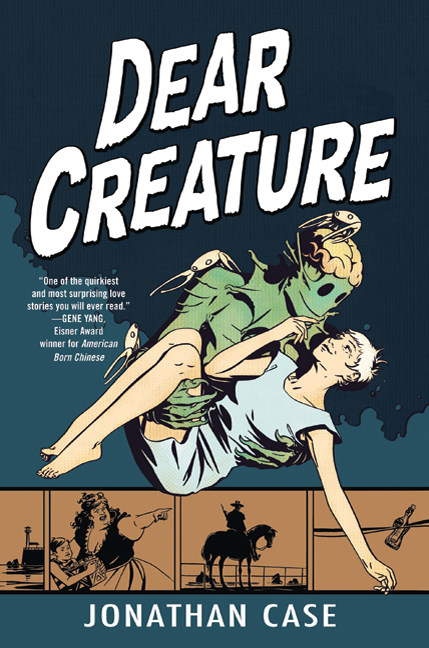 Okay people! Today's the day! Dear Creature is ON SALE RIGHT NOW. Now's the time to run up to the store and buy all the copies they have and then demand they order 10 more.
Also, you know, you get to read it!
GO, BUY IT NOW:
BUT YOU DON'T HAVE TO TAKE MY WORD FOR IT:
"With expressive art and clever writing in Dear Creature, Jonathan Case creates a unique and entertaining story of a man from the deep who just wanted to find a companion in life."
–Previews Magazine, staff pick!
"This exuberantly weird comic novel succeeds in fusing '50s monster movies and the works of William Shakespeare…Case's b&w art sometimes stretches reality for humorous effect, but keeps even the strangest scenes from feeling merely grotesque. The script also generates a surprising amount of pathos for the lovers' doomed passion. Startlingly assured for a debut effort."
—Publishers Weekly
"Dear Creature is sure to be one of the quirkiest and most surprising love stories you will ever read."
—Gene Yang, Eisner Award–Winner for American Born Chinese
"Every panel is beautifully composed… Case mastered it on his first project."
—Steve Lieber, Eisner Award–Winner for Whiteout: Melt
"An impressive debut. I dream of a world where every cartoonist's first graphic novel is this accomplished."
—Derek Kirk Kim, Eisner Award–Winner for The Eternal Smile
"Every once in a while you get a beautiful anomaly like this black-and-white graphic novel by Portland-based artist and writer Case… marvelously entertaining and a weird side-door entry into both Shakespeare and graphic literature… A funny, bizarre, unexpected pleasure that gives a creature from the depths heart and soul."
—Kirkus Reviews
"Case is talented with both visual art and the written word; his art is some of the best brush pen work around, rich with detail and realism, and his writing, both plot and prose, is brilliant."
—Ashley Cook, Giant Fire Breathing Robot
"Jonathan Case has a really dynamic style and real talent creating expressive faces. The clean line work and fantastic compositions enhances the creature's story; of love and trying to fit in a world where you don't feel you belong."
—Doug Dorr, Portland Comics Blog
"I commend Jonathan Case for this excellent graphic novel. It is very rare to find a storyteller who is able to write something that is at once literary and meta-textual, while remaining touching and hilarious. To then combine that ear for dialog and prose with artistic talent is even rarer. If you enjoy sequential art, then hands down, you should pick up Dear Creature.
And I think that it should be on everybody's short-list for the Eisner award."
—Chris Modzelewski, The King of Elfland's 2nd Cousin