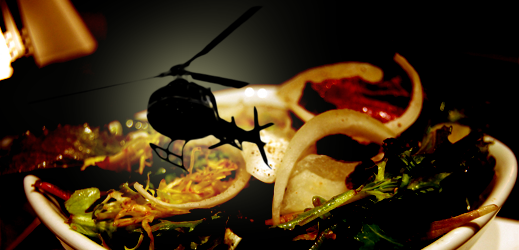 Actually Happening Episode 4 — Chris Christie's Salad Shooter
Episode 4, Chris Christie's Salad Shooter, is complete! This time, we distinguish ourselves by NOT having ten minutes about Anthony Weiner.

Episode 4: Chris Chirstie's Salad Shooter
[ 26:57 ]
Play in Popup
|
Download
This week:
— New Jersey's helicopter fleet
— Ancient Roman Punk Bands
— Charlemagne was a douche
— Penpals who didn't kill each other
— The "I want wine, but…" theory of (Jewish) civilization
— Accidental Welsh
— American Columnists
— The deeper intricacies of roommate jurisprudence
— Drumthwacket!
— Joys of nonconsecutivity
— Business cards
— Chris Christmas
— Calendar Pope
— The Father of All Turkmen
— Fractal Crazy
Links We Mentioned:
Steven's DC Comics revamp-related writings at Tor.com
Kevin's operatic interpretation of the Newt press release
Special thanks to Zach Herchen for an amazing job cleaning up the audio.
Image credit: stu_spivack, thisisbossi